Ruskin To-Day is an informal organisation that exists to celebrate the life and ideas of the artist, critic and social reformer John Ruskin (1819-1900). It brings together the activities of the many different societies, academic institutions and individuals who share an interest in Ruskin and in the many different aspects of his work. This website serves as a noticeboard to draw attention to the many Ruskinian events that place across the world.
For information about the 2022 Ruskin To-Day Annual Lecture and to apply for tickets, please click here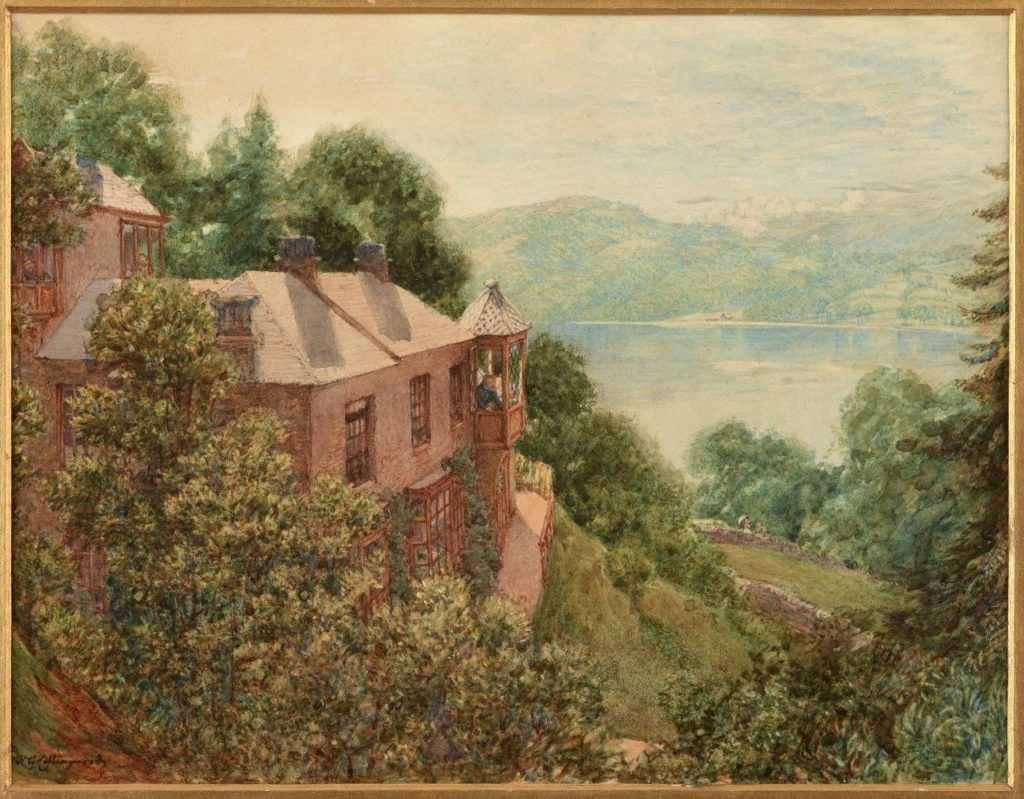 A NEW ACQUISITION FOR RUSKIN'S HOME, BRANTWOOD
Brantwood has acquired this delightful image of Ruskin in his Turret, Brantwood, a watercolour (8 x 10 inches), signed by W.G.Collingwood, and dated circa 1884.
The watercolour of Brantwood is by William Gershom Collingwood (1854 – 1932), who was Ruskin's full-time assistant and biographer. It depicts Ruskin, wearing his trademark blue stock, leaning from the Turret window. In the windows of the upper story extension there are also figures, likely to be members of the Severn family who shared the house with him, and two figures, one with a parasol, on the road below. From Ruskin's appearance and the extensions to the original building, it is likely that the picture dates to around 1884, the year in which Collingwood took up his duties as Ruskin's assistant.
Brantwood gratefully acknowledges the generous help of the following in acquiring this picture:
Purchased with support from the Arts Council England/V&A Purchase Grant Fund
Education Trust Ltd
Colin Simon Esq
Professor Robert Hewison
Professor Stuart Walker
For visits to Brantwood, its house, restaurant, gardens and special events, go to: Brantwood.org.uk
NOTICE
Harry Daniels, Secretary of the Ruskin Society of London, has established a Ruskin Reading Group, which already has a broad membership across the very newest and the most established Ruskinians. The Reading Group has now been brought under the aegis of the Ruskin Society, and as such are inviting members to join who have an interest in reading and discussing Ruskin's works closely. The Group has recently started reading the second volume of Modern Painters. If you would like to join, please contact Harry Daniels at secretary.of.the.ruskin.society@gmail.com