Ruskin To-Day is an informal network devoted to promoting wider knowledge and understanding of the ideas of the great Victorian writer, reformer and artist, John Ruskin (1819–1900).
2019 sees the bicentenary of Ruskin's birth on 8th February, 1819. This site has been set up to provide as much information as possible about Ruskin-related events that are taking place between now and the close of 2019.
There is a calendar of events that will be updated regularly, and a map that will help you find events near you.
There are also links to the many organisations that make up the Ruskin community. There is another website dedicated to the Bicentennial www.ruskin200.com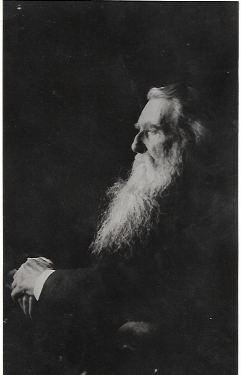 "John Ruskin (not Father Christmas), photograph by Frederick Hollyer, 1894"
Ruskin To-Day wishes all its readers a Ruskinian 2020, and thanks all those who have contributed to keeping our events calendar up to date throughout this year. Please keep your information coming.
As a seasonal greeting, we bring you the school anthem of the John Ruskin Grammar School, Croydon:
When the light of truth is fading and the torch of faith burns low,
And the creeping dusk of apathy has dimmed endeavour's glow,
Then the source of strength that Ruskin knew, we too, must seek to know
To be worthy of our name.
To his memory by the mountain lake a pillar stands alone,
And the words of simple wisdom graven in the ageless stone
Show a faith in God's abiding love that we must make our own
To be worthy of our name.
Let a vision of the grace of God exalt our searching sight;
Let us read the silent message of the stars that shine by night;
And when evil spreads its darkness let us know the power of light,
To be worthy of our name.
For a light to guide us comes from men whose works forever shine,
Men whose labours formed a pattern that was part of God's design,
And the witness of their love of truth shall be to us a sign
To be worthy of our name.
By the might of their example let our courage rise anew,
Let us brace both mind and sinew in the work we have to do,
Let a flame of purpose kindle that no shadow can subdue
To be worthy of our name
24 Jan
Oak Earth Day: John Ruskin, Ecology and Creativity
Elizabeth Gaskell's House, 84 Plymouth Grove, Manchester M13 9LW
10.15AM-4.30PM
As John Ruskin's bicentenary draws to a close, you are invited to an exciting day of talks, workshops, and a book launch on the theme of Ruskin and the environment. The event will culminate in the launch of Oak Earth, a chapbook written by the Guardian Country Diarist and Manchester Metropolitan University lecturer Dr Paul Evans. The chapbook was commissioned as part of the HLF and Guild-funded project 'Ruskin in Wyre' and written in response to Ruskin Land.
Speakers and workshop leaders include: Dr Rachel Dickinson (Master of the Guild and lecturer at Manchester Metropolitan University), Jenny Robbins (Guild director and director of the Wyre Community Land Trust, and Tim Selman (Wyre Community Land Trust) and Dr Jennie Bailey (writer and educator). The day takes place in the beautiful surroundings of Elizabeth Gaskell's house and, weather permitting, will be in the garden as well as inside.
All participants will receive a free copy of Paul's new book.
The event is free and has been made possible by generosity of the Guild of St George and Manchester Metropolitan University. BOOK HERE.
07 Feb - 08 Feb
Conference: 'John Ruskin: Prophet of the Anthropocene'
John J. Reilly Center, University of Notre Dame, Indiana
07 Feb
Lecture: Dr Thomas Hughes
Paul Mellon Centre
1pm
Companion Dr Thomas Hughes speaks at the research lunch at the Paul Mellon Centre, London. His subject is: Surface, Depth and Form; John Ruskin's 'The Nature of Gothic'.
More details and booking here. Free but booking required.
08 Feb
Ruskin Society AGM and Birthday Event
The Art Workers' Guild, 6 Queen Square, London, WC1N 3AT
4.15pm – 6.00pm
Dr Marcus Waithe of Magdalene College, Cambridge will speak on 'Insulting Ruskin: Fors Clavigera and the Uses of Offence', and the winner of the 2019 Ruskin Society Book Prize will be announced. The shortlist for the 2019 Ruskin Society Book Prize is:
Suzanne Fagance Cooper, To See Clearly: Why Ruskin Matters (Quercus)
Suzanne Fagance Cooper, The Ruskin Revival: 1969-2019 (Pallas Athene)
Robert Hewison, Ruskin and His Contemporaries (Pallas Athene)
Andrew Hill, Ruskinland: How John Ruskin Shapes Our World (Pallas Athene)
Booking is now open. The event is free for members of the Society.  
To book, please register here: https://ruskinbirthday2020.eventbrite.co.uk
12 Feb
Lecture: Ruskinomics Revisited
Anglia Ruskin University, East Road , Cambridge, CB1 1PT
Light refreshments from 5.30pm, talk starts at 6pm
Financial Times journalist Andrew Hill examines the legacy and lessons of the work of John Ruskin.
About this Event
Award-winning Financial Times journalist Andrew Hill, author of Ruskinland: How John Ruskin Shapes Our World, examines the legacy and lessons of the work of the controversial and prescient Victorian thinker. Ruskin's prescriptions for social and economic reform have a new relevance today in tackling contemporary problems, including
• social inequality
• excessive executive pay
• flawed economic orthodoxy
• advancing automation
• environmental disaster
• meaningless work
Andrew Hill will show how the thread of concern about how we live and work ran through Ruskin's life and career as art critic, scientist, environmentalist, philanthropist and social reformer.
https://www.eventbrite.co.uk/e/ruskinomics-revisited-tickets-88629863307 
13 Feb
Ruskin Seminar: Suzanne Fagence Cooper: Storm Clouds and the Sea of Ice - Ruskin in the Alps
The Ruskin, Lancaster
4.15pm
Dr Suzanne Fagence Cooper (Research Curator, York Art Gallery) will examine the interconnections between Ruskin's observations of changing Alpine skyscapes and landscapes over 40 years, with his own concerns about personal fragility and decline.
https://www.lancaster.ac.uk/the-ruskin/visit/events/ruskin-seminar-with-suzanne-fagence-cooper