Ruskin To-Day is an informal network devoted to promoting wider knowledge and understanding of the ideas of the great Victorian writer, reformer and artist, John Ruskin (1819–1900).
2019 will see the bicentenary of Ruskin's birth on 8th February, 1819. This site has been set up to provide as much information as possible about Ruskin-related events that are taking place between now and the close of 2019.
There is a calendar of events that will be updated regularly, and a map that will help you find events near you.
There are also links to the many organisations that make up the Ruskin community.
The Big Draw is currently inviting applications for a new Chair of the Board. Please contact Kate@thebigdraw.org to request an application pack. Application deadline: 16 July.
Ruskin To-Day congratulates Dr James Dearden, founder of the Ruskin Association and editor of the Ruskin Newsletter 1969-2000, former Master of the Guild of St George, on his appointment as MBE for services to Culture.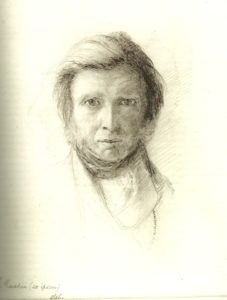 Courtesy: Ruskin Foundation (Ruskin Library, Lancaster University)
05 Sep
Lecture: 'Los Angeles, 1888'
Doheny Library, University of Southern California, Huntington Library Institute for the History of California and the West
Speaker: Professor William Deverell (Department of History, University of Southern California).
The Annual Ruskin Lecture, sponsored by The Ruskin Art Club, Los Angeles, an event celebrating the 130th Anniversary of the Ruskin Art Club.
22 Sep
Lecture: 'Master Furniture Making'
The Gamble House, Pasadena
5-8pm
Speakers:  John and Jim Ipekjian
27 Sep
Lecture: The 2018 Ruskin Foundation Lecture, "A Joy For Ever: Ruskin and the public impact of the arts". Sponsored by Sovereign Films
The Lecture Theatre, Victoria and Albert Museum
6.30pm
The former Secretary of State of Culture, Media and Sport, Chris Smith, takes up Ruskin's idea of "a political economy of art" in his 1857 lectures, "A Joy For Ever", and explores contemporary issues concerning the public impact of the arts.
28 Sep - 29 Sep
Conference: 'Hands, Head, and Heart': From Ruskin to Roycroft, a Celebration of the Arts and Crafts Movement'
The Roycroft Campus, East Aurora, NY
Speakers include Kateri Ewing (Artist-in-Residence, Roycroft Campus); Jim Spates (Professor of Sociology Emeritus, Hobart and William Smith Colleges); Joe Weber (Printer, Roycroft Campus)
06 Oct
Book Event: 'Bloke's Progress'
Walkley Carnegie Library, South Road, Sheffield, UK
2-4pm
13 Oct
Reception: An Event celebrating the Opening of the Historic Club Headquarters
The Original Ruskin Art Club House, Los Angeles
20 Oct - 26 Oct
Exhibition: Ruskin Museum Makeover at Meersbrook Hall
Meersbrook Park, Sheffield, UK